IN THE NEWS #BigIsms
Confronting the Damage of Trumpism
David W. Blight, November 7, 2020, The New York Times
"I speak the password primeval . . . . I give the sign of democracy," wrote Walt Whitman in "Song of Myself." "By God! I will accept nothing which all cannot have their counterpart of on the same terms."

One of our greatest poets sought the deepest forms of democracy, where people are completely unleashed to share their fullest humanity. Whitman endlessly sang of rebirth and renewal, in nature and in human society. Near the end of the same poem, he breathed his epitaph: "I bequeath myself to the dirt to grow from the grass I love,/ If you want me again look for me under your boot-soles."

As a mythic, defining characteristic, the idea of rebirth has a profoundly fertile history in this land. Americans — their nation, their polity, their multiethnic culture — have never stopped being reborn, despite the conflicted meanings invoked by that concept. We admire second and third acts; we endured at least two reconstructions of our Constitution and our race relations. We revived with lasting significance from a colossal Civil War. We confronted a Great Depression and remade the very idea of modern government. We fought the largest war in history on two world fronts and decisively won both. We celebrate, at least some of us, our dream of the assimilated multitudes into some kind of "one from many," living by the creeds of natural rights.

continue
---
We must do more to honor the people and places lost to violent racism
Walter Greason, November 3, 2020, The Washington Post


Only recently has the United States chosen to love Black people. It has loved the Confederacy deeper and longer and with greater loyalty. Stone Mountain spits in the face of our supposed destiny: How deeply must a nation hate a people to carve their destroyers into the landscape in perpetuity?

After a year that included the shootings of Breonna Taylor, Ahmaud Arbery, George Floyd and Jacob Blake, we still lack a national consensus to end racism and the violence it has hurled upon Black Americans. The year 2020 has been a year of revelation for some, but it has been a year of minimal progress for others.

Only last week did the board of Virginia Military Institute vote to take down a statue on campus of Confederate Gen. Stonewall Jackson. Though a federal judge has now ruled that Virginia Gov. Ralph Northam (D) can raze Richmond's statue of Robert E. Lee, the monument is not yet on the ground where it belongs.

continue
---
"Report from the Bahamas": The Legacies of Colonialism and White Supremacy
Amelia Moore, November 5, 2020, Black Perspectives


Thirty-eight years ago June Jordan wrote "Report From The Bahamas, 1982" about vacationing in a postcolonial Caribbean country as a Black American woman. The aftermath of Hurricane Dorian requires a personal reengagement with her essay, which dissects tourism, colonialism, academia, and the social categories (race, class, gender) that are supposed to lead to solidarity but which more often obscure possibilities for meaningful relationships across difference. As June said, "partnership in misery does not necessarily provide partnership for change: when we get the monsters off our backs all of us may want to run in very different directions."

June was a Jamaican American poet, the child of immigrants to New York City, and she became a full professor of English at UC Berkeley. She attended Columbia University, although she did not graduate because she could not adhere to the supremacist curriculum. She took graduate anthropology classes at the University of Chicago. She was married and divorced, and she did not always identify as heterosexual. She raised a son and published more than 27 books of poetry and essays before she passed away in 2002 at the age of 65. As June herself said, she was no fool.

continue
---
In George Floyd's hometown, a season of protest ends at the polls
Brad Brooks, November 1, 2020, Reuters


HOUSTON (Reuters) - Dexter Faircloth stalked the streets of Houston's Third Ward, the historic Black neighborhood where he was born and raised, shouting greetings and asking an urgent question.

"Y'all vote?! Did you?" Faircloth, 35, hollered repeatedly at people, who smiled when they recognized him as he canvassed the area last weekend.

Faircloth, a corporate trainer, says he has always been an advocate for his community. But that role became more urgent when his friend and Third Ward native, African-American George Floyd, died in May after a white Minneapolis police knelt on his neck for nearly nine minutes.

continue
---
Archaeologists discover 300-year-old slave quarters almost entirely preserved
November 2, 2020, WRCB TV (Chattanooga, TN)
Archaeologist Julie Schablitsky knew her team was lucky.

It's one thing to uncover an archaeological site that's 300 years old. It's a completely different matter when that site has remained almost entirely preserved.

Researchers unearthed a slave quarters site at Newtowne Neck State Park, which was once the site of a Jesuit plantation in southern Maryland. The slave quarters may date back to the 1700s. The site may also have a connection to Georgetown University's history of slave trading.

"This is a very rare and exciting discovery because we don't have any similar types of sites," Schablitsky, the chief archaeologist for the Maryland Department of Transportation State Highway Administration told CNN. "There was so much potential for this to be erased but, by some sort of miracle, we still have evidence of their homes and lives after so many years."

continue
---
That little girl was a future state senator, and I ignored her
Marcia Biederman, November 4, 2020, The CT Mirror




In the 1977 film "Saturday Night Fever," a Puerto Rican dance couple enter a dance contest at a Brooklyn disco owned and patronized by whites, winning second prize for their spectacular performance. First prize goes to Tony, played by John Travolta, and his partner.

Tony informs his jubilant partner that the contest was rigged. Strangers, especially Puerto Rican ones, could never win. Plucking the second-place trophy from the hands of his startled competitors, he gives them his. "

Congratulations

," he says. "I think you deserve it."

I also have an award I want to swap. In 1966, my classmates at Central High School in Bridgeport voted me the female student Most Likely to Succeed. That distinction rightfully belongs to my former classmate, Marilyn Moore, now in her third term representing Connecticut's 22nd senate district and, having won the August 11 Democratic primary against a party-backed candidate, running for a fourth.

But I am white, like most of the 429 students pictured in our yearbook, while state Sen. Moore is Black. Estimating by yearbook photos, Blacks comprised less than 15% of the class. A significant number of Latinos were in the Class of '66, but they, too, were a minority.

continue
---
Slavery: Belfast City Council approves statue of abolitionist
November 3, 2020, BBC


A proposal to erect a statue dedicated to US abolitionist and activist Frederick Douglass has been passed by Belfast City Council.

Douglass, a former slave, visited Belfast in 1845 as part of his lecturing tour of Ireland.

Last year, a specially-commissioned work by artist Aaron Hughes was hung on the walls of the Lord Mayor's parlour.

The proposal, brought by Sinn Féin, passed its final stage unanimously on Monday.

Belfast City Council confirmed the proposal had been ratified.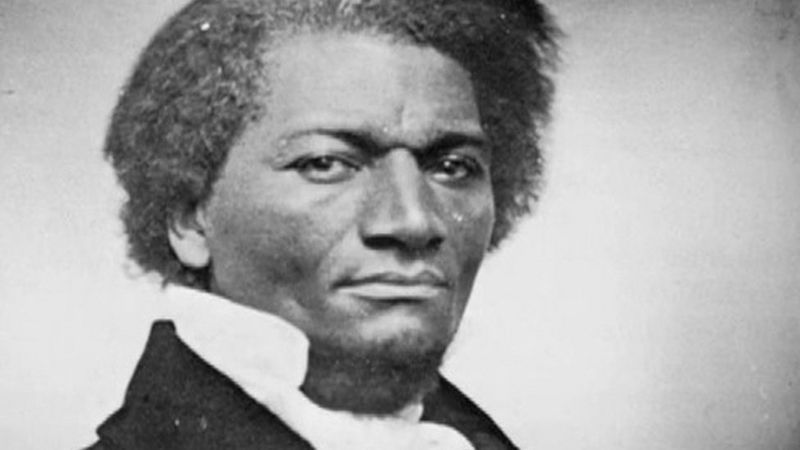 Councillor Ciaran Beattie said he was "delighted".

"The project will now move to the stage of design, and how we can create a creative and innovative tribute to a magnificent man and anti-racism trailblazer," he said.

continue